Cartoon drawn by me. Very sketchy and unpolished, but hey, I'm still learning as an artist. Besides, I don't always need to color these in, do I?
I'm not afraid to admit that I am a fan of Linda Ronstadt. Her voice is lovely, her performances are great, & I love how diverse she is, ranging from rock & roll to country (not the new crap they have) to Mexican mariachi music. I also love her interpretation of hits like "You're No Good", "Blue Bayou", "Poor, Poor Pitiful Me", "Love Has No Pride", and many others (I'm guessing she wasn't much of a songwriter, since she only released a few songs that she actually had writing credits on.)
While she has gotten a little, well, stouter in later years, I think she's still about as attractive as ever. (However, THIS image is NOT of her later years, before you get confused.)
I'm also a fan of the 80s, especially 80s music which is lively, fun, eclectic, weird, and rather underappreciated and underutilized, in my opinion, so combining two things like the 80s & Linda Ronstadt should've been a good thing, right? Well, it wound up pretty disappointing, really.
I'm pretty sure I'm going to be the only one who thinks this, but I hate the direction that Linda Ronstadt went during this era. A lot of people cite her as a versatile singer, and while I agree with that, I don't think she put this versatility to good use here. I mean, sure, she broadened her approaches to Traditional Pop AND Mexican music, but I think in the former, she focused on it TOO much and didn't devote attention to a whole lot else. That's not versatility, that's just milking a particular sound for all its worth. Basically saying, I liked her better in the seventies.
What I should also note is that Ronstadt never really thought of herself as a rock singer and apparently wasn't fond of her rock hits, preferring more of the ballad stuff. Personally, I'm the opposite of her. I think the title track for "Heart Like A Wheel" is the dullest song on the entire album, and "You're No Good" was part of what got me really interested in checking out more of her work, along with another song she did, but I'll get into that later.
What's going on here is beyond me, but hey, sometimes cover art can be unusual.
What's funny, though, is that the decade didn't start out bad for her. In 1980, she released one of my personal favorite albums from her, the absolutely awesome Punk Rock/New Wave based "Mad Love", which spawned the hits "Hurt So Bad", "I Can't Let Go", and the incredibly underappreciated "How Do I Make You", 2 minutes and 25 seconds of pure, undiluted energy. It also contained three songs by New Wave icon Elvis Costello, three songs by obscure New Wave group The Cretones, and a song by Neil Young. Apparently, from what I heard, some people didn't seem to like this new approach (I honestly don't know why, more on that later), but it still managed to sell platinum, her seventh consecutive million-seller since 1974's "Heart Like A Wheel" and it's also her most consistent album. Personally, I feel Linda Ronstadt's albums were hit-and-miss, since most of them were usually full of ballads with most of the rockers saved for the singles. Don't get me wrong, I like her ballads, but I still love being able to listen to stuff that's energetic and lively as well. Besides, her albums always seem to feel uneven with this mixture of ballads overweighing the rockers, so I like how this one is pretty much consistent.
Wow, what a design.
1982's "Get Closer" wasn't as awesome as Mad Love, but it was still a nice record. Ironically, despite this being a return to the genres of her critical and commercial successes in the 1970s, the album was the first album release in ten years to miss a million selling Platinum certification. Aside from the cool title track, a few other examples from this album were "Easy For You To Say", a cover of "Tell Him", and a duet with James Taylor, "I Think It's Gonna Work Out Fine".
Then 1983 came along, arguably one of the best years for music in the decade, and Linda Ronstadt went a direction that was excellent in description, but HORRIBLE in execution. She released the unholy travesty known as… WHAT'S NEW.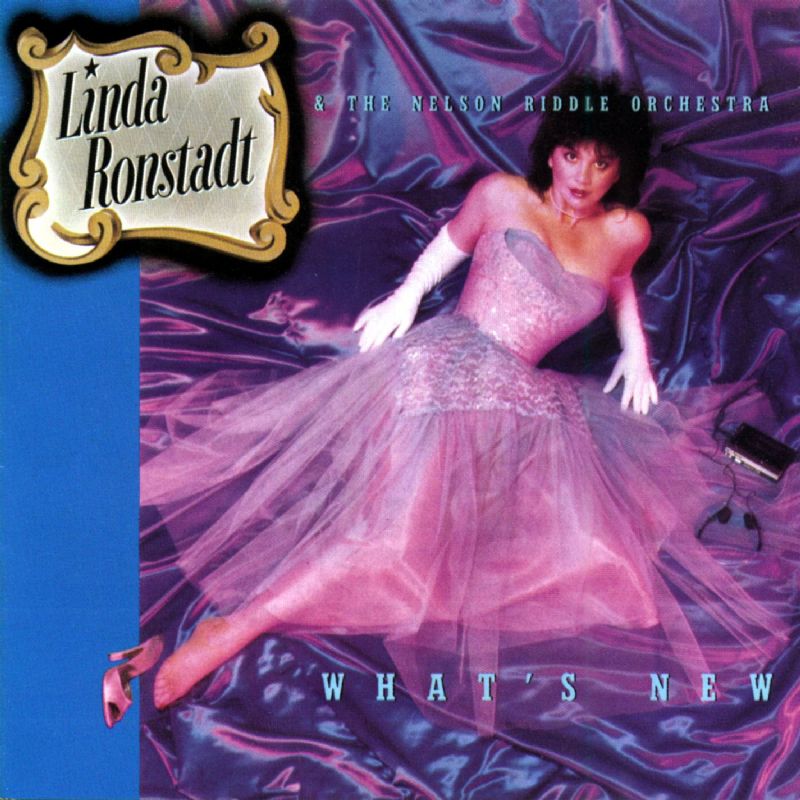 Hide the kids!

Now, before you go nutso on me, YES, I was aware of what Ronstadt was intending to do with this, and while I DO admire her efforts, I honestly thought this entire thing could've been done better, because what WAS released was an overrated, BORING mess of an album.
From what I heard, she produced and recorded an album of Jazz and Pop Standards in 1981, known as "Keeping Out Of Mischief", which she ultimately scrapped due to dissatisfaction with the final result, but was later marketed in bootleg form. This didn't dissuade her, however, as she attempted to convince Elektra Records to greenlight a project that involved the same kind of music that was on the failed album. Eventually, in 1983, she released "What's New", an album that was a massive success at the time, getting a triple platinum certification from the RIAA, spending 81 weeks on the Billboard Album Chart and holding the #3 position for a month and a half, behind Michael Jackson's "Thriller" and Lionel Richie's "Cant Slow Down". The album earned critical raves and another Grammy Nomination for Best Female Pop Vocal Performance, and it apparently brought composer Nelson Riddle and the American Songbook to a younger audience.
However, this kind of critical and commercial acclaim doesn't change anything for me. It still sucks.
I once bought a vinyl copy of this album to see what it was like, but it wound up being so dull and so un-engaging that I was nearly put to sleep by it. While the Nelson Riddle composed music was nice, Linda's voice was passable, it apparently remained true to the originals (or so I heard, as I haven't listened to the original versions of most of these songs), and it helped keep traditional jazz songs alive and introduce them to a new generation, that doesn't save the entire album from being an incredibly boring snooze-fest and an overall forgettable experience. And that's saying something, considering that I have a relatively good memory, and it usually allows me to remember stuff that others would usually find forgettable.

Also, even if she did a decent job on singing these ballads, I had to agree with the usually controversial (at least, to me) AllMusic, whose critic, Stephen Thomas Erlewine, cited that "Ronstadt's voice isn't always showcased to a fine effect on these songs." Seriously, Ronstadt's performances during her glory days were much more memorable since she sang the songs with a gusto that made even the ballads worth listening to, but here? Dear Lord, I can't remember a single note she sang from this album. Not one! I don't feel like I've been exposed to a groundbreaking album that revitalized an endangered form of music, I felt like I wasted 36 minutes and 36 seconds of my life listening to the same kind of dull elevator music that Ronstadt was trying to prevent this kind of music from becoming! But what really killed this album for me is that the entire thing was just ballads. I'm personally fine with ballads, but I never liked American Songbook ballads because of how bland, uninteresting, unengaging, and unmemorable that most of them tended to be. Seriously, what was wrong with throwing in some livelier standards that one could groove to? Frank Sinatra did a TON of those kind of songs, as well as the famous ballads like "My Way", so why the hell couldn't she?
Another issue I have is that apparently, some people didn't like the New Wave approach, but weren't bothered with this one, which doesn't really make sense to me. I would have figured this kind of record would have alienated her fans much more, but with the reaction it got, I'm surprised that I didn't hear much negativity about this.
If Ms. Ronstadt wanted her music to appeal to a diverse crowd, she should have at least make sure to have something for the youth as well, and I'm sure they would've enjoyed some of those livelier tracks I talked about earlier. I mean, even though she introduced pop standards for a new generation with it, I doubt any kids would've seriously found this album appealing in the slightest. Especially considering some of the hit acts at the time, like Michael Jackson, Duran Duran, & The Police. Heck, even Billy Joel's "An Innocent Man", another tribute to pre-rock pop released that same year (although he did all original songs in the style of doo-wop, R&B & soul instead of pop standards) was more interesting, energetic, enjoyable, and most importantly, memorable, than this record.
I don't care what anyone else says, Billy Joel is awesome.

If you like "What's New," that's great, it just doesn't do much for me.
This is what I think should have been done for "What's New":
First of all, it should have been a double LP. Yeah, I know, this was a major risk at the time already, what with fear of alienating her rock audience and all that, but I honestly doubt this would have changed things. A LOT of double albums, like Elton John's "Goodbye Yellow Brick Road", Pink Floyd's "The Wall", and Peter Frampton's "Frampton Comes Alive", were smash successes, so I honestly think that wouldn't be much different for this one, especially since this was such a unique move at the time.
Second, this album should have been divided up in two parts: one half for ballads, and one half for more lively songs. That way, this would be able to appeal to both sides of the audience spectrum, those that enjoy ballads and those that enjoy stuff that makes them move or dance.
Third, this should have been a ONE ALBUM EXPERIMENT only and nothing more! She didn't need to record two more albums of this kind of music and waste two more years just to get her point across! She could have been experimenting with OTHER kinds of music during this period, even stuff that was mainstream at the time, rather than exposing us to two more albums of this torture!
Oh, did I forget to mention that she recorded two more albums like "What's New?" That's right, meet "Lush Life" and "For Sentimental Reasons", which came out in 1984 and 1986, respectfully.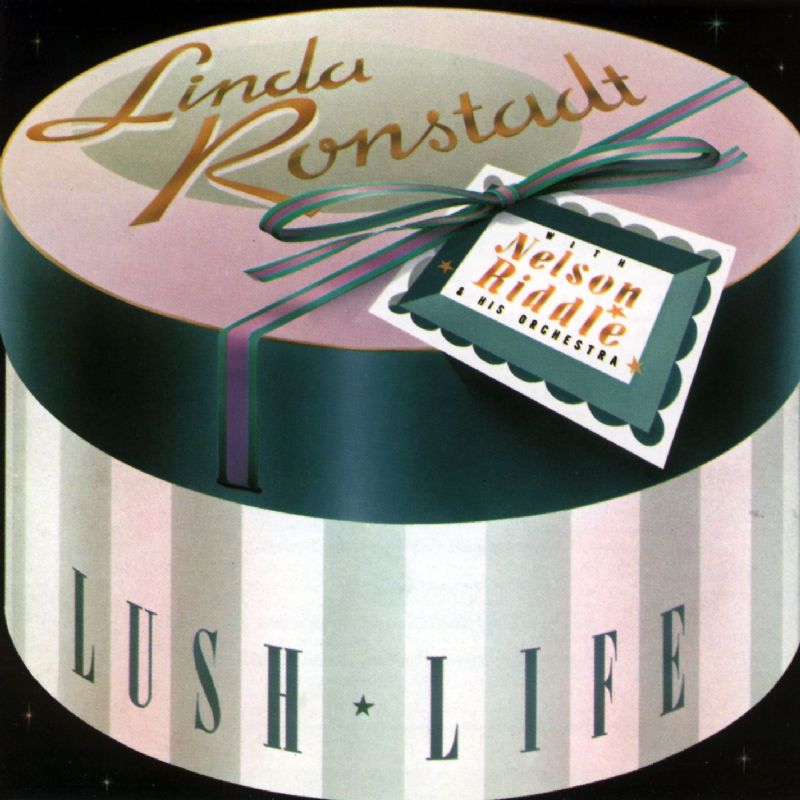 Very 40s-50s retro, if I do say so myself.
Oh, COME ON, Linda! Seriously? This is how you wanted to spend the decade of excess?!!?

It would have been enough if she had released just this one album, but NO, she had to release two more albums. TWO MORE ALBUMS of this schmaltz. I would have been fine if she at least did one more album to cash in on the success of "What's New", but TWO OF THEM?!!? Were you deliberately trying to kill off the audience that loved your rock albums, Linda? Again, I agree with Erlewine that, while the traditional pop sound was an interesting change of pace, it didn't need to be followed by two more albums of the same sound.

Seriously, Barry Manilow was more credible at this period than she was, since he at least tried both mainstream sounds and the more easy listening stuff that people are familiar with.
The albums shown here are from 1984 and 1985 respectively.
And before you ask, yes, I do consider Barry Manilow something of a guilty pleasure. I'm not big into his ballads, but I enjoy his more upbeat stuff.
Though, to be fair, I listened to some samples from the latter two American Songbook albums on iTunes, and they seem to have a few of those lively tunes that were sadly absent from What's New, so while I don't think they should have been really made, I can at least give them that. However, Nelson Riddle, who arranged all three Pop Standard albums, died in 1985, one year before "For Sentimental Reasons" came out. The cause was from liver ailments, but I dunno, I hope it wasn't because Linda was overworking the poor bastard.
However, in 1986, the same year she brought out "For Sentimental Reasons," she joined up with soul singer James Ingram to perform a song for an animated movie made by former Disney animator Don Bluth and released that November. The movie? "An American Tail." The song? "Somewhere Out There," the version heard on the credits.
(Sorry for the quality. I couldn't find another one that wasn't an AMV, montage, or fan attempt at performing it.)
THIS was how I was first introduced to Linda Ronstadt.

Like a lot of my other favorite singers, musicians, and bands, I learned about her through an animated movie. And when I saw the sequel from 1991, "An American Tail: Fievel Goes West," I really loved her version of "Dreams To Dream" as well.
(A very beautiful way to end a surprisingly decent sequel, in spite of the movie's contrasting tone to the original.)
But enough of my nostalgia. How'd the song fare?
Well, "Somewhere Out There" was a great ballad, and it was really successful. It peaked at #2 in the U.S. Top 40 in March 1987 after a four-year absence for Ronstadt, and at the 30th Grammy Awards, it won both the "Song of the Year" award and the "Best Song Written Specifically for a Motion Picture or Television."
So THAT should have been able to convince her to return to the mainstream, right?
NO, it's time for another experiment in style! But thankfully, this one actually seems a little more interesting than her previous Pop Standards incarnation. Can you guess the style this time? That's right, MEXICAN MARIACHI MUSIC! Wait, what?
Ay Carumba!

Yep, it turns out that she wanted to try her hand at something that was apparently a big part of Ronstadt's family tradition and musical roots, with 1987's Canciones De Mi Padre. (That's Spanish for "Songs Of My Father" or "My Father's Songs.") I'm not a big fan of this kinda music, but I do admit that I kinda have a soft spot for that Latin/South American folk sound. I can at least tolerate it, mainly. I never really listened to it yet, but the samples on iTunes were pretty nice, I guess.
Rhinestone Cowgirls without the Rhinestones.
Also in 1987, Linda collaborated with her country singer friends Emmylou Harris and Dolly Parton to record the "Trio" album. I'm not really a fan of country music, but I do like this album, and I think it's much more interesting than "What's New." Both of these albums were incredibly successful, but neither were a match for her next release.
"Featuring Aaron Neville?" More like "Four Songs Featuring Aaron Neville."
In 1989, she released her first contemporary pop album in seven years, "Cry Like A Rainstorm, Howl Like The Wind." Even though people cite this as a collaboration with Aaron Neville of the Neville Brothers fame, I cite this as a solo Linda Ronstadt album, since Aaron wasn't very prominent on this album, only doing a duet with Ronstadt on four songs: "All My Life," "I Need You," "When Something Is Wrong With My Baby," and the biggest hit, the #1 Gold-certified "Don't Know Much." The album itself reached 3x Multi-Platinum in the U.S., and is one of her three highest selling studio albums of all time in the US, along with 1977's "Simple Dreams" and (uggh) "What's New".
As to my thoughts about the album, it's really good. The duets with Aaron Neville are great, and so are most of the solo songs, although a few of the Jimmy Webb-penned tracks outside of "Adios" are pretty bland and forgettable. It's not much of a return to standards, but I feel something like this was what Ronstadt should have been doing more of in the 80s.
Overall, I felt this was a disappointing decade for Linda Ronstadt. She had some good stuff come out, but the majority of it was wasted on an overrated album and milking the style of this album for what it was worth. She did try a few more musical directions, but I would not call her being very versatile here, at least, to my preferences. There are a ton of things I feel she could have done differently around this period, and quite frankly, while her 80s period wasn't terrible, I personally feel it could have been done better than this and I expected more from Linda Ronstadt here.
Wow, strange but fascinating cover design.
On a final note, I feel Linda's 1993 album "Winter Light" deserves more recognition, as it's a beautiful album. It's another one of my favorite Ronstadt albums and even Allmusic thinks it's underappreciated, so if you find it, I recommend giving it a listen.
(Apologies to Linda Ronstadt, who really is a great singer. Also, I feel that someone REALLY needs to remaster all of her albums at some point in the future.)