Not too long ago, I read
this article
from 2010 telling that picture books are no longer a staple for children. Part of it was due to the economic downturn, as was mentioned, but what got my attention was the mention that parents were pressuring kids to read text-laden chapter books over picture books earlier in their lives. And I don't mean 10 or 12-year olds; I mean kindergarteners and first graders.
To hear parents instilling that kind of thing to their children this early in life absolutely DISGUSTS ME.
I've been reading since I was a toddler, and if there's one aspect of literature that has always fascinated me throughout my childhood, it was the picture book. The illustrations that were contained in these wonderful tomes were one of the reasons why I got interested in drawing. I even came up with my own silly parodies that my mom would type on the computer while I dictated them, and then I would draw my own illustrations in them, even if, at the point in my life that I came up with them, they were very crude stick figures done in marker.
To me, one of the most fascinating aspects of picture books were the actual illustrations themselves. I mean, yeah, the stories and the wording did interest me as well, of course, but what really sucked me in and actually made me want to read them were the illustrations. The artwork of standouts like Dr. Seuss, Dav Pilkey, Bill Peet, Jack Kent, Lane Smith, Chris Van Allsburg, Mercer Mayer, Maurice Sendak, Stan and Jan Berenstain, H.A. Ray, Shel Silverstein, Berkeley Breathed, and the Little Golden Book artists, among others, always appealed to me somehow, whether it was the design, the detail, the colors, the visual humor, or even the atmosphere of the piece, and proved that some of these illustrators really knew how to create books that were visually interesting, stimulating for the imagination, and, more often than not, fun to read. And if they were writers as well or they teamed up with writers who acknowledged their skills and let them show off their work, that made it all the more better.
"Uggh, what a stench! So THAT'S why they're green!"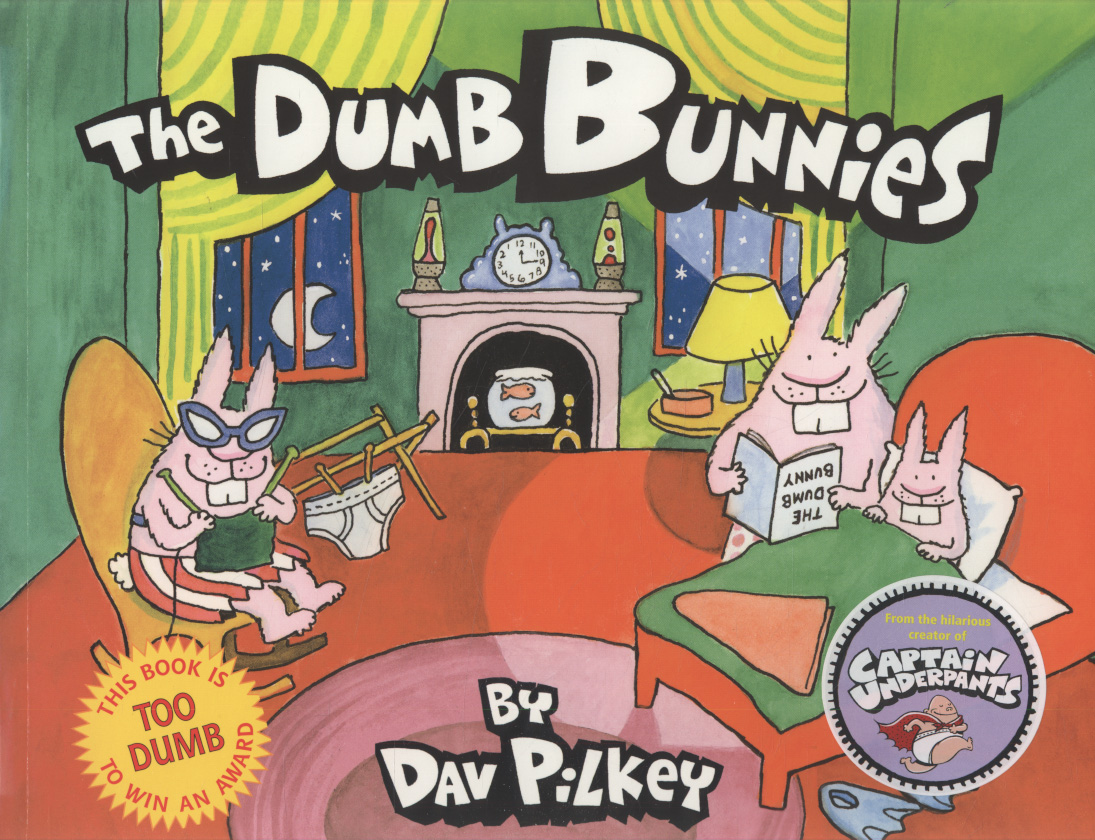 Too Dumb To Win An Award? Sure. Too Dumb To Not Be Funny? Heck No.
Uh, heh, I hope they don't mean "lost his head" in the same way that I'm thinking of...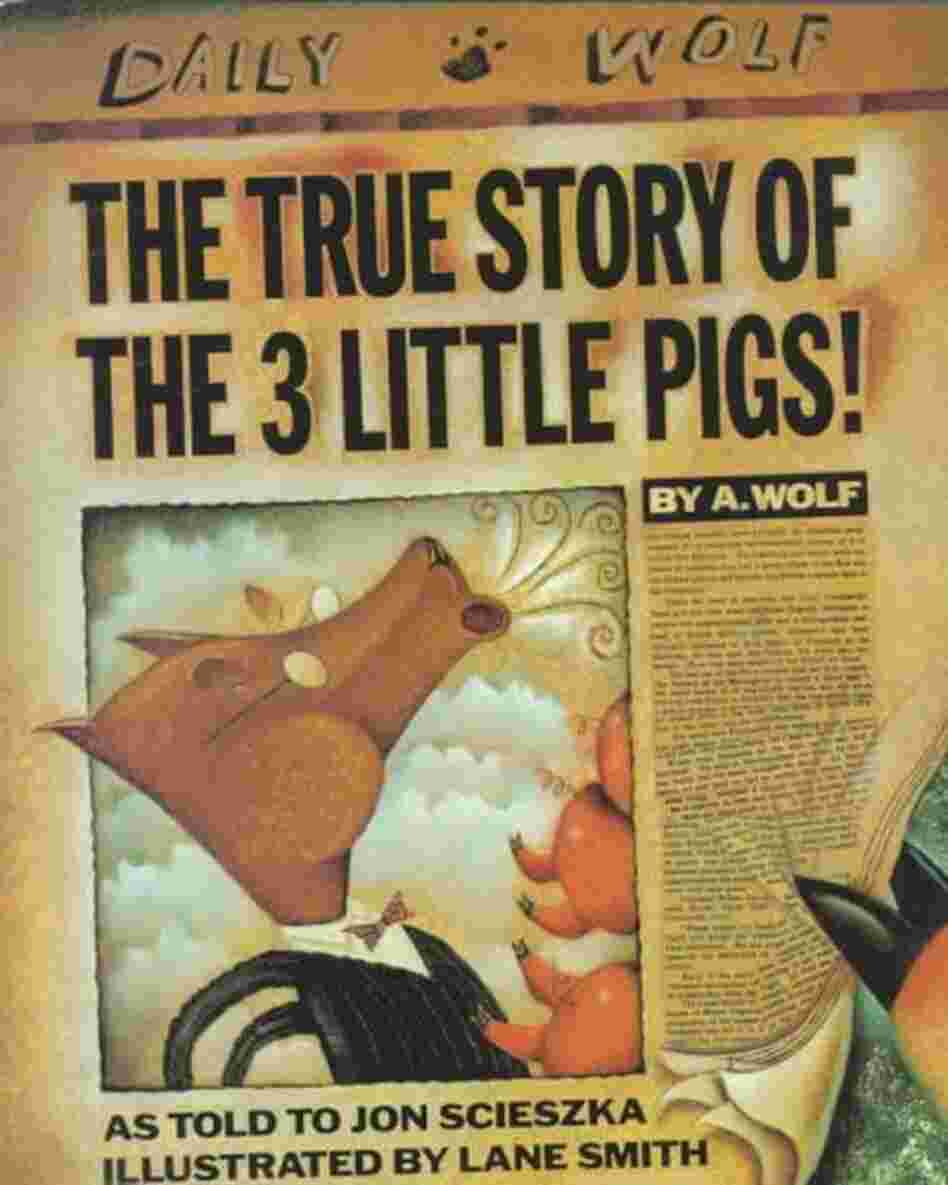 Or "How The Wolf Unintentionally Got The Negative 'Big Bad Wolf' Stereotype Associated With Him."
Notice that "Now A Major Motion Picture!" sticker in the corner? Yeah, that's not an out-of-date addition to the book at all.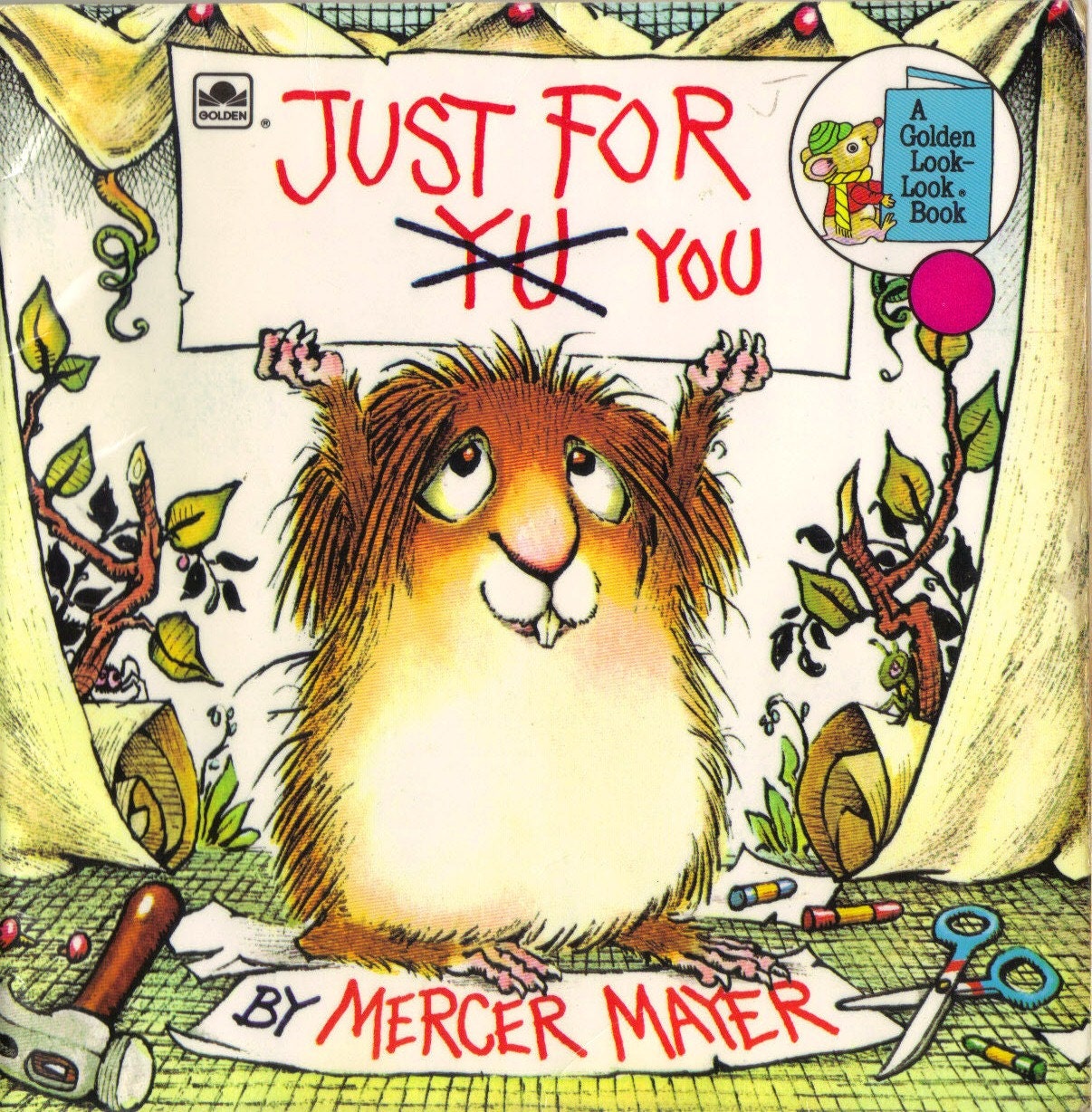 You can tell that this is a very early Little Critter just by how it was drawn. It does make me wonder if Mayer was considered a "Poor Man's Maurice Sendak" at the time, though...
"Let the Wild Rumpus St- HEY, YOU THERE! NO SLEEPING AT THIS TIME!!!"
It amazes me how the Berenstain Bears went from fun, silly antics to cutesy moralistic fluff to having some religious "Living Lights" books published by Zonderkidz starting in the late 2000s for some reason. Talk about going Lighter And Softer!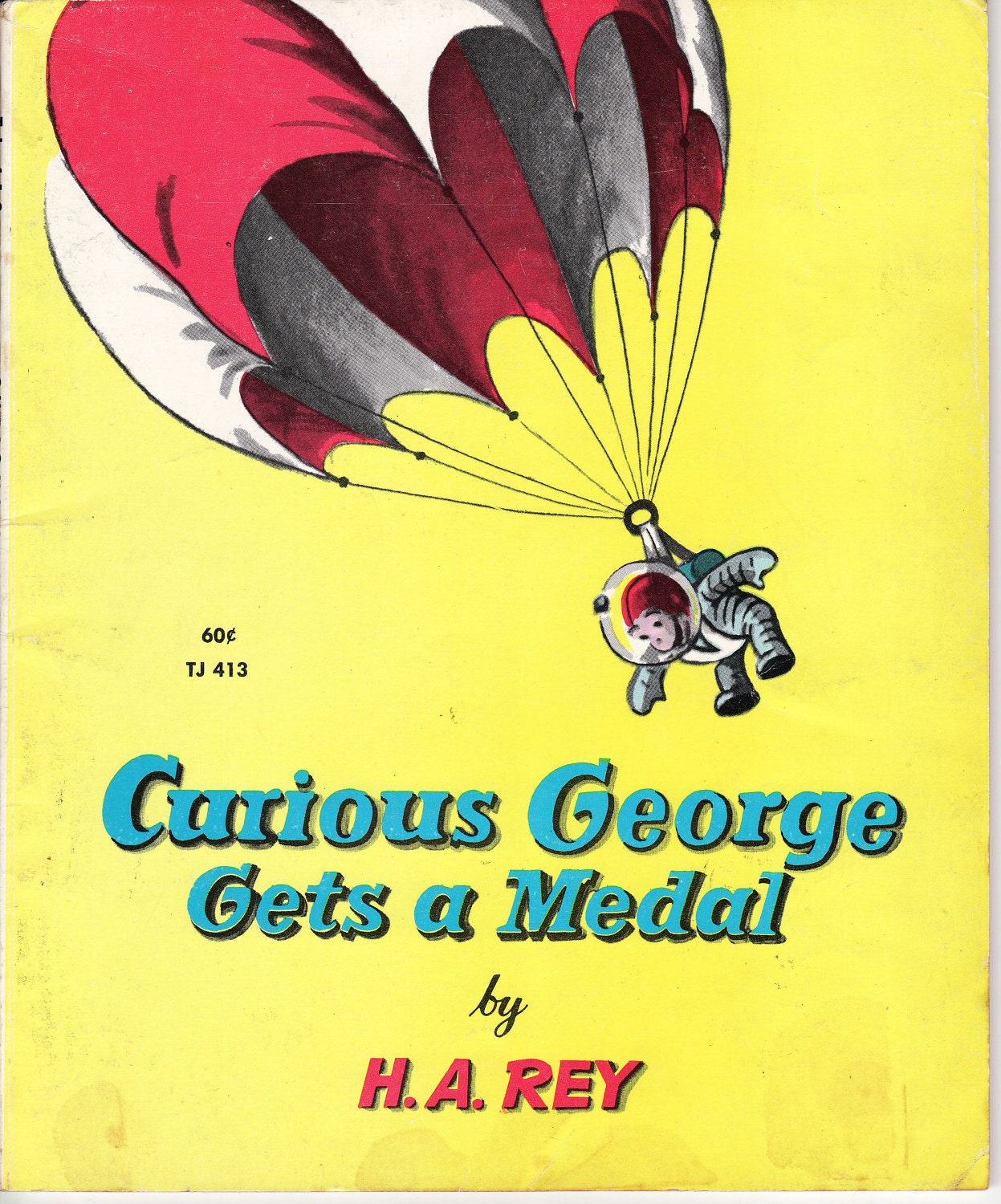 "This is Major George to Ground Control, I just stepped through the door, and I'm floating in a most peculiar way..."
"Now, Boy, I want you to give this special apple to a girl named Snow White..."
Who wants to guess that they just caught someone skinny dipping?
But again, to hear of parents that are like that just makes me cringe, because it only further instills the stereotype that modern children grow up too fast. If I ever saw one of those parents telling their children they can do "better than this" or encouraging them to read this much text at such a young age, I'd feel the desire to take them away from their children for a second, and scold them furiously, something like, "Screw you, you insensitive jerk, just let your kids live their childhood out while they still have it!" I wouldn't actually try a stunt like that, since I wouldn't know what consequences it would bring about, but I would still want these people to learn a thing or two about raising their kids right. Childhood is one of the most important times in a person's life, the point when they're the most developmental, and to hear of parents that do such things really pisses me off. It makes me wonder if they ever took child psychology, like my mom did.
I myself have an interest in making picture books of my own at some point. Sometimes, I'd visit my local libraries to take a look see at their picture books and re-live some childhood memories of reading these stories while creating new ones from reading books I haven't read before.
In 2011, I also ordered a picture book from Barnes And Noble done by an artist that I had taken an interest in, Brianne Drouhard, an animator who has done design and storyboard work for stuff like Teen Titans, The Avengers: Earth's Mightiest Heroes and Class of 3000. That book was Billie The Unicorn. It had a cute and surprisingly interesting story and endearing characters, and of course, Brianne's incredible artwork. Every page explodes with stylish design and eye-popping color that demonstrates her incredible skill and instantly made me a full-fledged fan of her work.
(This last one isn't from the actual book, but it's still associated with the character and it looks great, so I felt like adding it, regardless.)
(A rough piece of fanart I drew for Brianne as a way for thanking her for the book. She felt I got the characters down with this one.)
Also, I've been checking out the work of illustrator William Joyce lately. You may know of him for recently being responsible for Dreamworks' "Rise Of The Guardians," and the incredible, highly-recommended, must-see 2011 Academy Award Winning Animated Short Film, "The Fantastic Flying Books Of Mr. Morris Lessmore," created in association with Shreveport-based Moonbot Studios, (which can be seen on Youtube, for those curious,) but Joyce is a familiar name in both children's books and animation, creating such books like George Shrinks, Rollie Pollie Ollie, A Day With Wilbur Robinson, (which was adapted into Disney's Meet The Robinsons,) and The Leaf Men And The Brave Good Bugs (which has been adapted into the Blue Sky Studios film "Epic," and was released this year,) just to name a few. I've only read some of them so far, like Santa Calls and Dinosaur Bob And His Adventures With The Family Lazardo, but I've really enjoyed what I read and definitely look forward to reading more. What amazing artwork! What imaginative storytelling! William Joyce has proven himself to be a creative powerhouse, and I've grown to really admire a lot of his work ever since learning of his name. I may be a young adult now, but I still appreciate picture books for reasons like those.
Just so you're aware, this isn't a screenshot from the actual animated short of "Mr. Morris Lessmore," but rather the book adaptation of the story.
Even though I have read chapter books and longer novels myself in my later childhood, I still don't think there's anything wrong with children reading picture books, as long as they are visually interesting and tell good stories while stimulating imagination and being fun to look at. I don't know if things have changed much since 2010, but hopefully, there may be a resurgence of this format of literature, a day when parents will realize their mistakes and allow children to read more of what they want rather than what the parents want them to read, because no matter what anyone else says, picture books really are a great introduction to both the art of storytelling and the art of illustration for children.