My family came to visit me this past week, and, while looking for some things to do, Mom found something that she figured would be of much interest to me: that weekend, August the 10th and 11th, Don Bluth & Gary Goldman were going to be showing some of their movies at Austin's Alamo Drafthouse Cinema/Restaurant and then doing a Q & A Panel afterwards.
Don Bluth, for those that have been living under a rock for the past few decades, is the Disney animator who, having been dissatisfied by the direction that Disney was taking since the untimely death of Walt, decided to take matters into his own hands by taking several other young animators starting out at Disney, notably Gary Goldman and John Pomeroy, and going out to start his own studio in the late 70s/early 80s to create classical animation that wound up serving as real competition for Disney during the 80s, with such animated hits like The Secret of NIMH, the Laserdisc arcade games Dragon's Lair and Space Ace, An American Tail, and The Land Before Time. Apparently, with this competition, Disney realized they had to put more effort into their animated projects, thus leading to Disney's renaissance era. While Bluth's features in the 90s suffered both critically and financially (with the exception of Anastasia,) I consider Don Bluth to be one of several factors that saved animation and brought it out of the Dark Age of crap like Filmation and Hanna-Barbera.
I know people like Ralph Bakshi have accused him of splitting from Disney only to serve as a generic Disney knock-off, but here's the thing: Love them or hate them, the majority of his films are NOT, in any way, actual Disney knock-offs. Don Bluth is passionate as an artist and storyteller, and while most of his films tend to draw a lot from Disney's earlier classics, his work does have a distinct style to them that separates them from Disney's work. The drawing style, while taking a lot from Disney, has its own unique flair to it. The stories, while having a feel of something Disney would create, are dark, edgy, and willing to take more risks with what could be shown to younger audiences while still being family friendly, at least when they're at their best. If you want a REAL Disney knock-off that actually used to work at Disney, try Richard Rich, director of The Swan Princess. Not only did he harp off Disney's style of art and story without taking any real risks, but some of the character designs for that movie actually look like they were taken from Don Bluth as well.
Seriously, tell me that turtle somehow DOESN'T resemble Littlefoot from The Land Before Time.
So yeah, Bluth may not be perfect, and several of his movies, ESPECIALLY his work in the 90s, tend to be heavily flawed, (though I tend to give Bluth the benefit of a doubt and put the blame on studio executives, the most talentless and un-creative people in the world,) I still respect him for his vision and his desire to show the world what animation can be capable of.
Uh, where was I again? Oh, right. Don Bluth's appearance at the Alamo Drafthouse.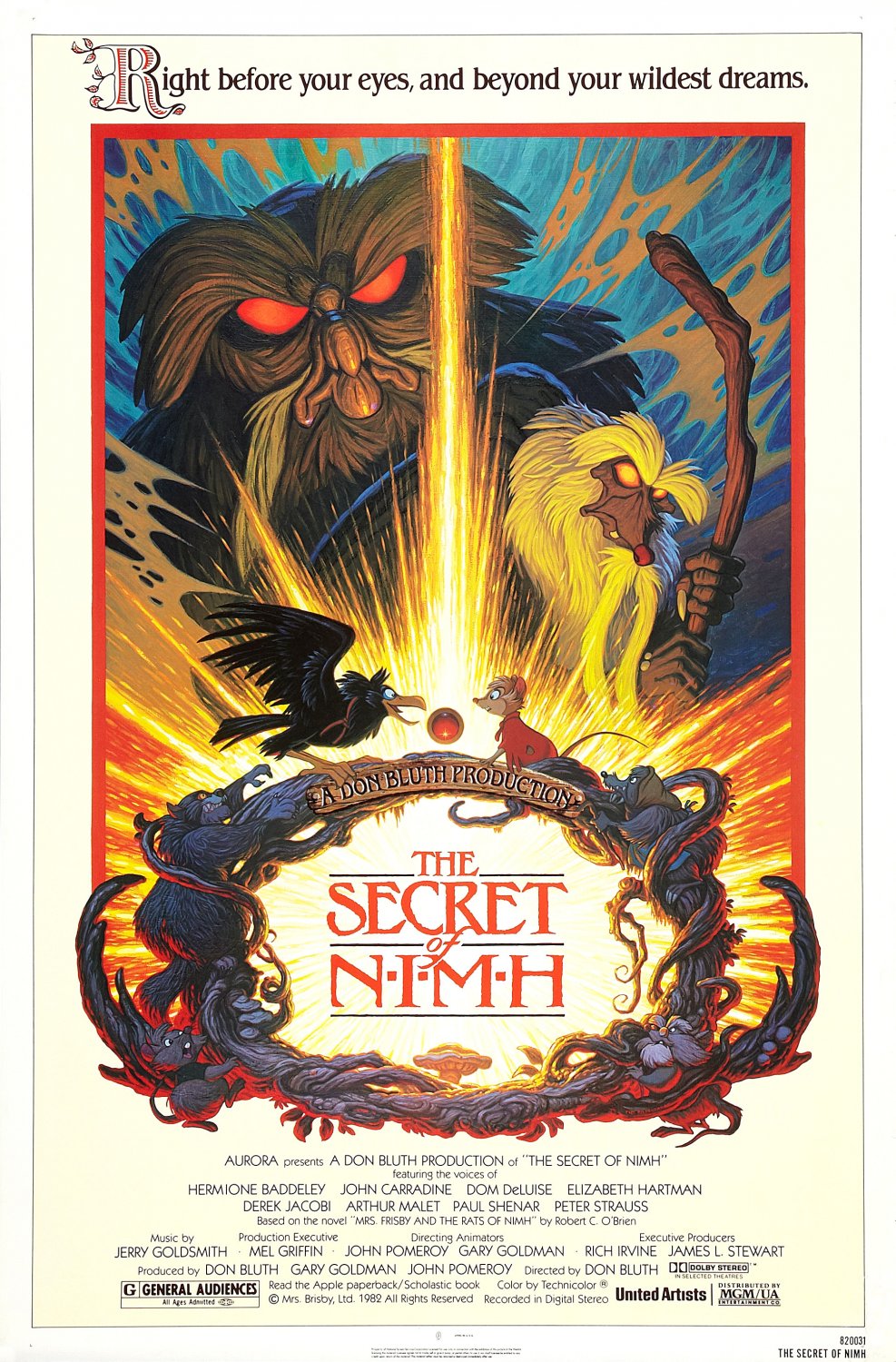 Fun Fact: The poster for this film was painted by the under appreciated talent that is Drew Struzan.
The films that Bluth and Goldman selected to show were The Secret Of NIMH, All Dogs Go To Heaven, and An American Tail, three of the four films created during the group's prime in the 80s. I wanted so bad to see The Secret Of NIMH, since that's my personal favorite of Bluth's films, but sadly, they were sold out. I did, however, get to see All Dogs Go To Heaven with my brother and my dad, and the rest of the family went with us to see An American Tail. Those were both really enjoyable films, despite not quite matching up to the power and magic of their first outing. There was so much I wanted to ask them at the Q & A panel, but for the sake of time and the fact that others wanted to ask them stuff as well, I kept both questions I asked to one per viewing. With All Dogs Go To Heaven, I asked about any future projects they had planned, (they didn't tell much, but I can understand why,) and with An American Tail, I asked how they got into the animation industry, as well as any advice for those that wanted to enter as well.
Don and Gary were both very good at public speaking, often recounting the experiences behind the making of their projects with a good-natured sense of humor and a fascinating insight to several things related to animation, music, story, and all that good stuff, as well as giving their thoughts on modern animated films and the like. I heard of such tales and anecdotes as Martin Short's ego getting hurt when Don asked him to be "a little funnier," Burt Reynolds' terrible "dog voice," memories of late actors like Dom DeLuise and Judith Barsi, Paul Williams getting drunk in order to sing his take on "Flying Dreams," and the two people that inspired the crow, Jeremy, from The Secret Of NIMH, among others. They were surprisingly humble about their work as well, especially considering they hadn't watched these films ever since they were originally made and released.
After we watched An American Tail, Don and Gary signed my copy of Don Bluth's The Art Of Animation Drawing book, and my mom took a few pictures of me with the two veteran animators. To an aspiring classical animator such as myself, that was the equivalent of seeing one of your favorite rock bands live and having them sign your favorite album. I plan to write them a very nice letter soon to thank them for that and for sharing their experiences and knowledge with those who participated, myself included.
On a final note, yes, there was a karaoke sing-along of Linda Ronstadt and James Ingram's version on "Somewhere Out There" that was played before we watched An American Tail. I was totally taken off guard when Toy Joy's Lizzy Newsome, who organized this event with Bluth and Goldman, held that microphone up to me on the last note. Sure, I may have been in the front row for that particular showing, but I was still surprised she picked me, of all the people in that row, and I wasn't trying to draw too much attention to myself when I sang along, either. I didn't think it was as best as I could have done on such short notice, but afterwards, she encouraged me by saying that she felt I did well. That was nice of her.
So anyways, here are some of the photos:
(Left to Right) Me, Brian, (my sister's hubby,) Tyler, and Rylee by the American Tail poster replica
Me by the American Tail poster replica (I'm honestly not too proud of my looks)
Me in line to get my copy signed (Sorry if the photo's blurry)
Me with Don Bluth (left) and Gary Goldman (right)
Another pic with Don and Gary (I'm guessing this was the one where Gary was joking with me and saying I blinked in the first photo. We had three taken in total, but Mom sent me these two.)
Don and Gary's autographs on the first page of my copy of Don's Animation Drawing book, as submitted through my scanner.