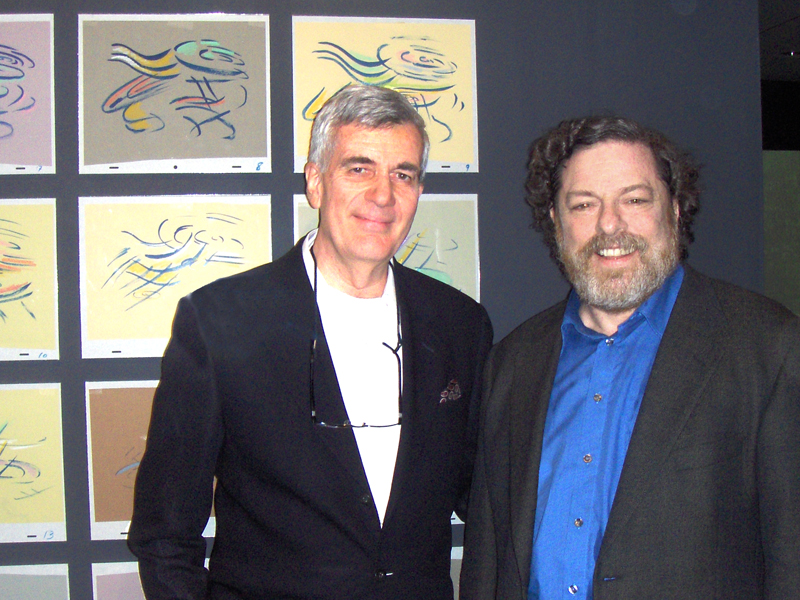 Left to Right: John Canemaker and Michael Sporn
It has come to my attention that New York independent animator Michael Sporn has passed away January 19th.
I have not met him, nor am I the most familiar with his work as an animator (although I might have possibly seen some of the stuff he did for Weston Woods and Sesame Street when I was younger) but as a casual viewer of his blog, which is a treasure trove of animation art, history and commentary, and easily one of the greatest animation blogs on the web, I figure I had to talk about him a little.
For those unaware, (and I'm sure a ton of you are,) Michael Sporn was a New York based animator who, after working under the likes of John and Faith Hubley, Richard Williams and R.O. Blechman, struck out on his own, started his own studio in 1980, and produced, directed and animated on numerous TV animated specials and short spots with small budgets and a desire for artistic freedom and the ability to work on projects that interested him the most. He did both commissioned works and personal creations, sometimes based on children's literature, while others were based around more social issues. Some of these productions include "The Hunting Of The Snark", "Abel's Island", "The Marzipan Pig", "The Man Who Walked Between The Towers", and "Champagne", just to name a few.
One of his most notable accomplishments was his 1984 short film, Doctor DeSoto, based off the William Steig book of the same name, getting nominated for the Best Animated Short Film Academy Award.
As for his passing, I have noticed that on some of his more recent blog posts, something about Sporn's writing seemed, well, off. It had become a little more sloppy and disjointed and I was wondering if he was experiencing some sort of deterioration or health issue or something.
Little did I realize that I wasn't all that far off.
He wasn't suffering from any form of dementia or mental deterioration, like Alzehimer's, but he was suffering from pancreatic cancer, which was what ultimately did him in. Sadly, at that time, he was directing and producing an animated feature based on the life of Edgar Allan Poe. Whether that will see the light of day or not is unknown.
I'm not the most familiar with the guy, so my tribute might not be the most heartfelt. The tributes by animation historians Michael Barrier and John Canemaker, on the other hand, are. You can read them
here
. And you can also read animation teacher and blogger Mark Mayerson's tribute
here
. Heck, how about two Cartoon Brew tributes as well,
one
from site co-founder Amid Amidi, and
one
from Courage The Cowardly Dog creator John R. Dilworth. I wanted to show these particular tributes to give you an idea as to what his impact on the animation community was. He wasn't as famous as many of those big-name animators out there, but those who knew him remember him fondly.
Like I said, I'm not the most familiar with his work. However, I do plan on checking out some of his animations and re-reading through more of his blog at some point. Lou Reed's death motivated me to check out more of his music, so I'm sure that the same could apply here. (Incidentally, Lou Reed was also a native New Yorker.) I do plan to look through the archives on his blog more, but as for films, I managed to find a few of them on Netflix some time ago and just recently, as of this writing, I have managed to check out a couple of his films on DVD, Whitewash and Champagne, both dealing with heavy social issues, and from what I can see, despite the minuscule budgets he works with, he still manages to create decent looking cartoons with a modern artistic bend to them. As far as the content goes, my favorite of the two was Champagne, which was a two-hour interview with a convent-raised girl named Champagne Saltes condensed down to a 13 minute cartoon. Half of it was improvised animation, while half of it used a storyboard, which is pretty impressive.
One quote in particular, however, stood out to me about how much Michael Sporn loved animation. On his "Making Of" Featurette of the DVD, the ever passionate Sporn said this: "I think animation has the potential to be the greatest of all the arts." Well, Michael, wherever you are, with great music, acting, storytelling, visual arts, and the right amount of effort and passion in the right hands, it's always possible.